About Phil's Ride 2020
Phil's Ride is a bicycle and motorcycle ride on August Bank Holiday Sunday open to anyone who'd like to rock up on 2 wheels, in aid of the East Anglian Air Ambulance.
Open to bicycle riders of all abilities and motorcycle's from 125cc upwards.
This simplistic web site is designed to provide you with the information to need to get to to quickly and easily.
Click the links on the right to donate via our JustGiving page and view our current total.
Follow all the latest developments and discussions on our Facebook page.
Click the link on the right to download your sponsorship form (Coming soon).

LATEST NEWS - February 2020
Only The Brave 2020, Sunday 29th March

Only The Brave 2020 is an event organised by the
East Anglian Air Ambulance

The Only The Brave (OTB) challenge is organised by the EAAA and will be in its fifth year for 2020. At the same time the EAAA will ccelebrate it's 20th anniversay! OTB had a record breaking year in 2019, hosting 1,850 racers, who all helped raise funds for the EAAA.

Phil's Ride 2020 couldn't not send a squad to this auspiscious 'mud run' and not be a part of it so for the first time we'll be represented by a team of 16 drawn from our ranks.

We'd very much like many people to come along to this event and not only cheer on our 16, but also the other 2,000[ish] competitors in what promises to be a challenging but fun day.

The event will be held at

Elveden Estate
London Rd
Elveden
Thetford
IP24 3TQ

and will of course be very well signposted on the day.

Full details of the Only The Brave event can be found at the EAAA web site.
Diary Dates 2020
The expanding Phil's Ride Team have had their first meeting for for 2020 and we've quite a bit on the calendar for this year. Dates for your diary are as follows, with more information on the events as they transpire;
Event
Date
About
Only The Brave
Elveden Estate, London Rd, Elveden, IP243TQ

Sun 29th March
8.30am to 4.00pm
Organised by The EAAA, "Only The Brave" is a 6 or 10 mile assault course in mud, bogs, water, rope ladders and all other sorts of obstacles. We have a team of 16 Phil's Ride 2020 participants you can cheer on. Full details of the event can be found at the EAAA web site and you can show your appreciation to our Phil's Ride team by donating to our JustGiving Page.
Lycra Car Wash
Old White Bell, Southery, Norfolk, PE380PA
Sat 25th April
12noon to 5pm
Following on from our successful car wash event last year, why not do it again! Bring your car along to our dynamic team of car washers dressed in their finest cycling lycra and have your car cleaned inside and out for £10 (or more, if you think we do a good job!)
London to Paris 24Hr
Phil's Ride Team Cycle
Sat 23rd May to Mon 25th May
Some of our intrepid PR2020 cyclists, namely David Beeton, Ben Layn, Callum Butcher and Jamie Doswell, will be cycling from London to Paris within 24 hours. Cycling over the May bank holiday weekend, you can show your appreciation to our Phil's Ride team by donating to our JustGiving Page
Darts Tournament
Southery Village Hall, Southery, Norfolk, PE38
Sat 20th June
1pm to Late
Open to all comers, get your name down early as this 80 person extravaganzer has limited spaces.
Playing for the inaugural title of Phil's Ride's Darts Champion 2020, it's surely going to be a great all day experience. More details to follow.
Either email us on ride@philsride.org or grab any one of the team to register your interest.
Builders Bash BBQ
Invite Only
Sat 4th July
PM to Late
BBQ, Live Music, Prizes, Games. The Builders Bash is a BBQ laid on by part of the PR2020 team for family and friends and friends of friends. It's a lively day and great fun.
Staff Ride
Old White Bell, Southery, Norfolk, PE380PA, riding to The Chequers, Wimbotsham

Sat 22nd August
Time: TBA
Every year, the staff of The Old White Bell tirelesly run the bar all day on our main event. As a result, they are unable to partake in the main yearly Phil's Ride Cycling event. This year though, all the staff and members of the PR2020 team who would otherwise miss out on cycling the event now have no excuse to cycle to Downham Market.
Cycling the route the main ride will do in 8 days time, the Cycling Arm of the Phil's Ride Team will be running the bar at The Old White Bell for the day - in fancy dress.
Why not come along and show your support for this little mini ride and of course you can show your appreciation to our Phil's Ride Support team and 'Team Old White Bell Bar Staff' by donating to our JustGiving Page.
PR2020 Cycle Challenge
Phil's Ride Team Cycle
Wed 26th August to
Thu 27th August
All day
This year, the PR2020 Cycling Challenge for our team is encorporate the EAAA's two bases into our ride. As such, our intrepid and expanded team of 18 cyclists will be riding a route of c.180 miles from Southery to Blakeney (of course!) then stop off at the EAAA Norwich Hangar, whizz down to the EAAA Cambridge Hangar and then back to Southery.
As usual, all the team are not professional cyclists and some are just rank amateurs, in fact their combined age is somewhere around 1000 years.
All the riders will be collecting sponsorship and as ever, you can show your appreciation to our PR2020 Cycle Challenger team by donating to our JustGiving Page.
Open Air Cinema Night
The Car Park, Old White Bell, Southery, Norfolk, PE380PA
Sat 29th August
Time: After dark
A new provisional event (due to the weather), is our open air cinema whereby we'll be screening a crowd pleasing classic film. Bring your singing lungs with you! Also planned for the evening are other little activities to keep the audience amused which will be announced nearer the time.
Phil's Ride 2020
Old White Bell, Southery, Norfolk, PE380PA
Sun 30th August
10.30am to 10.30pm
Our main event.
See the section below "Phil's Ride 2020 Main Event - Sunday 30th August" for more details on how YOU can be a part of Phil's Ride 2020 and help make a difference to keeping the EAAA Helimed's flying.
Mount Bagadag Paraglide
Turkey
TBA Date September
One member of our team will be paragliding off Mount Bagadag to help raise money. The fact he's on holiday at the time, goes to show how committed some members of our team are at trying to raise funds! The fact he's never paraglided before is [apparently] part of the challenge too. (Incidentally, David Beeton wishes to remain anonymous for this event as it's just him doing it, so keep this one quiet, but if you would like to show your appreciation to our PR2020 Learner Aviator please visit our JustGiving Page and make a donation.)
Fancy Dress Car Wash
Old White Bell, Southery, Norfolk, PE380PA
Sat 12th Sep
12noon to 5pm
Yes, another Car Wash, but this time in fancy dress and chances are your cars will have got a bit grimy since April anyway. Bring your car along to our dynamic team of car washers and have your car cleaned inside and out for £10 (or more, if you think we do a good job!) If you choose to come along in fancy dress, well we're not going to stop you.
100Km 5-Day Desert Trek
Sahara Desert
Morocco
Sat 7th Nov to
Sat 14th Nov
Some of our intrepid team will be undertaking this gruelling trek across the Sahara Desert, braving the intense heat and midday sun with not a sand castle in sight!
Our team of trekkers will be flying out to Ouarzazate airport and then over the next 5 days will be walking M'Harech Dunes, M'Harech Gorge, climb Jebel El Mrakib to Tafrouat Camp then walk Bouzaine Dunes and then on to Announ Baadi.
None of the team have done anything like this before and it is a real test of endurance and stamina. All the participants will be taking sponsoship monies for the feat and no doubt, if you know any of the team, you'll be made fully aware they'll be going.
If you would like to show your appreciation to our PR2020 Desert Rats you can do so by visiting our JustGiving Page and help us try and reach our target.
Karaoke Wrap Party
Old White Bell, Southery, Norfolk, PE380PA
Fri Nov 20th
8.30pm to Midnight
It's time to wrap up the fundraising of the years efforts so come along and join in the celebrations with the whole PR2020 team. Due to timings of our Desert Rats late trek to the Sahara Desert, we're fitting in our Wrap Party on the same night as K J Entertainments Karaoke night at The Old White Bell, so don't expect a regular drink at the pub! All being well, we'll have the launch of or video too, to sum up the year.
History
Phil's Ride started in 2016 as a memorial ride for Phil Beeton who sadly lost his life in an RTC in October 2015. Due to the swift action of the EAAA attending the RTC, they were instrumental in saving Phil's nephews life Jack.

Jack is alive today because of the East Anglian Air Ambulance.

Phil's Ride has gone from strength to strength. The first ride in 2016 saw a pilgrimage of motorcycles undertake a return ride to Blakeney which is where Phil and Jane (Phil's partner) used to ride for leisure days out. Also on this day, not wanting to be left out because they didn't have an engine, a collection of cyclists rode a local route also in commemoration.

This first ride in 2016 set the precedence for the following years and every year we've rode in Phil's memory raising money for the EAAA with not just a large ride on August Bank Holiday Sunday, but other events throughout the year including car washes, BBQ's, bucket waving and cycling challenges undertaking by some of the team such cycling the 197 mile perimiter of Norfolk in 24 hours and cycling 397 miles from St. Ives Cambridgeshire to St. Ives Cornwall in 3 days.

So far, Phil's Ride has raised a total of £61,961.56 for the EAAA in 4 years and we'd like to think as the event grows, we'll be doing this for many more years to come.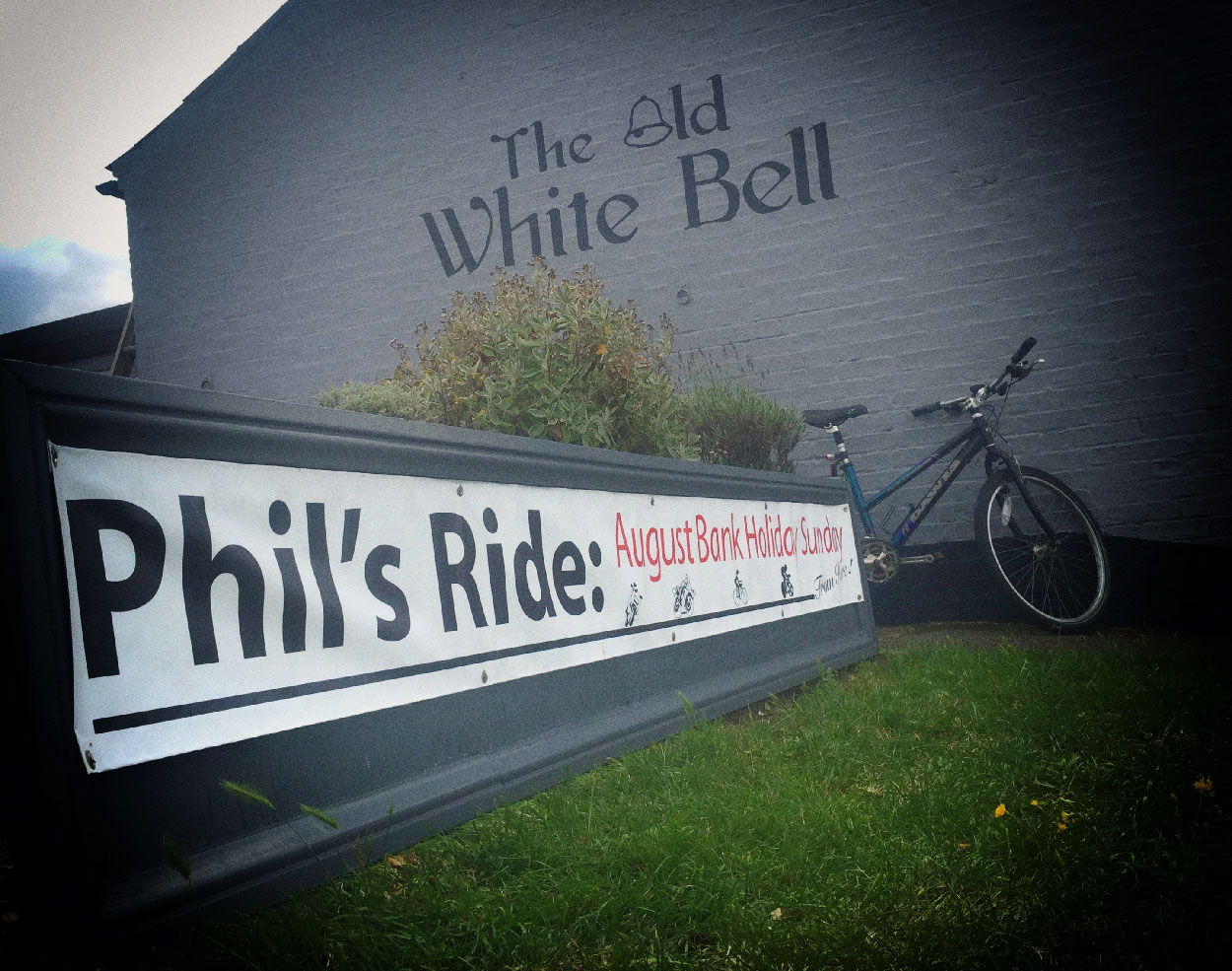 Phil's Ride 2020 Main Event - Sunday 30th August
This year we'd like to get as many people involved in our day as we can. As part of the team have set themselves the challenge of a 5 day trek across the Sahara Desert, we thought it only fitting to also include a sponsored walk element into our, giving everyone the opportunity to take part, even if they don't have two wheels.
Taking Part
If you would like to take part and join in, whether it be on 2 wheels or armed with your walking boots, simply turn up with your steed of choice at the Old White Bell, Southery (PE380PA) from 11.00am [onwards] on Sunday 30th August 2020. (NB: Due to the popularity of the event, car parking will be conjested, so we advise people arriving by car to park sensibly in the side streets, the extra parking facility opposite the Old White Bell and the Village Hall car park, located close to the playing field and of course be mindful and respect local residents.)

Itinery is as follows;
11.00amRegistration opens Hand in any sponsorship forms and collect the loan of Phil's Ride High Vis (NB: For riders only.)
12.30pm Motorcycles will ride a c.109 mile return route to Blakeney
12.35pm Bicycles will ride a local c.21 mile return route to Downham Market to the Wimbotsham Chequers. The exact route is TBA
12.40pm Sponsored Walk will have the option of walking 1 or 2 laps of the route commonly referred to as "The Common" which is either a 3 or 6 mile route
4.30pm All riders return
5.00pm Live Music Starts
c.7.00pm Auction Bid on items that sometimes money just can't buy
10.30pm Close
All we ask for taking part is a donation in one of our two collection buckets upon arrival at time of registration of at least £5, or if you'd rather sponsorship forms are available to download (link TBA) and print. All donations, no matter how small, will be greatly appreciated.
A "Phil's Ride - In Aid of East Anglia Air Ambulance" high-vis will be loaned to all riders (subject to availbility) upon your registration. These have cost our sponsors quite a bit of money so please return this after your ride.
Bicycles
The bicycles will be organised into groups at registration for marshalling purposes consisting of Casual, Experienced and Enthusiast. The groups will have staggered starts to aid the marshals and the impact of the short ride on the A10 for other road users.
Should a cyclist be unable to do the full distance, simply wait for one of our support vehicles to take your and your bicycle back to the Old White Bell.
Motorcycles
The motorcycle ride will again be riding the c.109 mile to Blakeney as frequented so often by Phil and Jane on his bike.

We advise all motorcycles to brim their tanks before arriving. For those not familiar with the area, the nearest petrol station is Stone Cross, Downham Market, PE380AD to the north of Southery or BP, Littleport, CB61JJ if coming from the south.
The ride will be marshalled by riders in orange high-vis and will follow a fairly simple main road ride to Blakeney via Mundford and Swaffham, stopping at Blakeney where the burger van will [hopefully] be prepared for our arrival for a 40min stop. All being well, the petrol station as we arrive at Blakeney will be a functioning 24/7 pay-at-pump by then (I'll confirm as soon as I can on this) however if not, we'll make a fuel stop at Wells-Next-The-Sea which will be on our return leg shortly after departing Blakeney.
The return leg will be almost the same as 2019's route via Wells-next-the-Sea, turning left after Holkham Hall estate, through Burnham Market, left at the duck pond at Stanhoe, through the CITB at Bircham Newton, Fitcham, Grimston, Gayton, East Walton, Narborough and then pick up the Swaffham Road near RAF Marham and back to Southery. All being well, motorcycles will be entering the northern entrance to the village at 4.30pm and will escort the cyclists the last few hundred yards back to the pub.
Sponsored Walk
Although we'd recommend up to 2 laps of the "The Common" there is of course no reason for you to do more [or less] of the route as you wish and indeed if you want to drive sponsorship on the basis of 'laps' of the 3 mile circular route, please be our guests. Please note, if you're not familiar with the route, "The Common" is very flat open fenland with a mixture of gravel and tarmac surfaces both even and uneven.

Enjoy our video from 2019, to see what Phil's Ride is all about
Sponsorship Form
Our Poster
TBA
Routes
Motorcycle Route
TBA
Bicycle Route
TBA
Please Note!
The bicycle and motorcycle rides will be taking part on public highway's and as such it is the riders responsibility to ensure they are wearing the correct safety equipment such as helmets, gloves, etc,. and have a legal and roadworthy vehicle.
The organisers of Phil's Ride accept no responsibility or liability for matters arising for participation in this event.